About The Artist
I have been creating art since I was a kid, beginning with little more that a standard No. 2 pencil and office supplies my mother would buy for my birthdays. I later moved to acrylic paints and was selling art and doing murals by the time I was in college. Somewhere along the way I married, divorced, and then made the decision to care for shelter animals, and though I packed my brushes away, I never got rid of them as I moved and lived in different parts of the country.
To be honest, it took someone's constant badgering to convince me to dig those brushes out and start using them again. After a few poor sketches it was like getting back on a bicycle. I bought new paint. The stories started flowing again, first as a trickle, and now as a fast bubbling creek. I really have trouble finishing a thing before a new idea demands my attention. I paint and draw and art to share what is in my mind's eye and dreams, and to meditate in the process. The ideas are rather random but I'm beginning to see some common themes in my work, and it has been eye-opening.
I have also picked up shiny new digital tools along the way. More than anything I have learned to have patience with myself as I explore applying the techniques I've learned in more traditional media to digital art, and vice versa as I explore what light and darkness can do when they work together - also a rather apt metaphor for my life, I think.
This job is as much for me as anyone else, but it is also a gift I like to share and maybe get a smile or start a conversation, and that's what truly motivates me.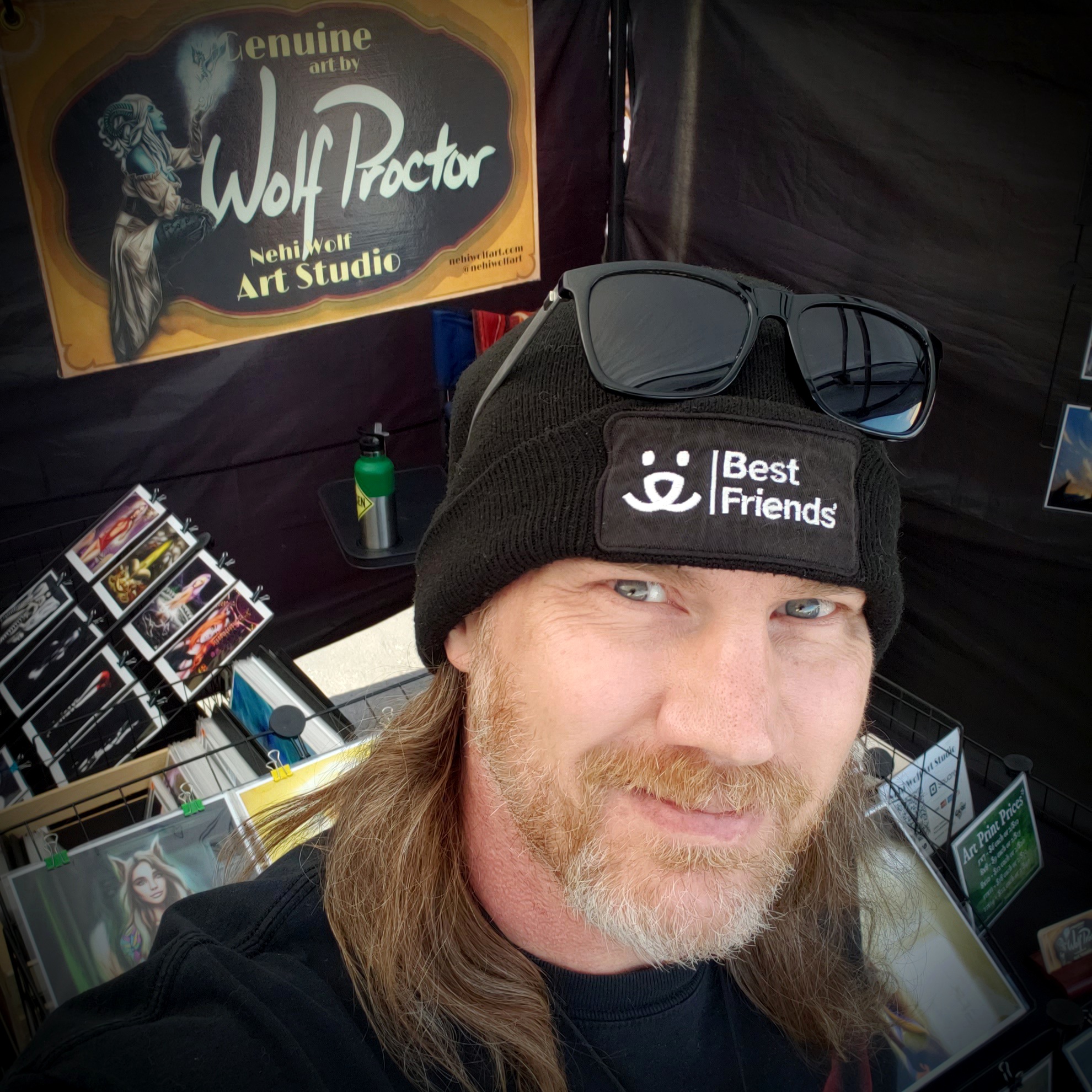 About The Art
This site is where you can buy art directly from me - this means I'm the one who fills your order and checks and approves the quality of each item. There are no fees or percentages taken out by a faceless middleman and therefore I can offer a more affordable price for you.
I feel it necessary to note that I NEVER post my art at full resolution online. The previews here are tuned to about 40% - not only does this save bandwidth but it prevents my full work from ending up on a t-shirt or blockchained on a sketch server somewhere. The ONLY way to get full resolution artwork from me is either paying for custom work or buying a print directly from me at a market or right here!

These are the same quality items I have in my art booth and hanging at galleries. Everything is made entirely in my studio and I don't outsource the production to a third party. My art prints are made by elaborate process and printed on acid-free photo papers using eleven separate pigment-based inks on a state-of-the-art professional large format printer in small batches. Each item is individually inspected for quality and then packaged by hand.
I can also handle special requests for art and prints I don't have stock of. You want a bigger print? You want a print of a different piece you don't see listed? I can do that. Send me a message with what you have in mind!